Yomtob Properties -Deerfield Beach
Phone: 561-542-8222
Ben Yomtob Properties:  Florida Luxury Office Space

Ben Yomtob is a the owner of a commercial real estate and property management company in FL.  His portfolio currently consists of  three luxury properties in the Boca Raton, Delray Beach, Deerfield Beach, and Boynton Beach area.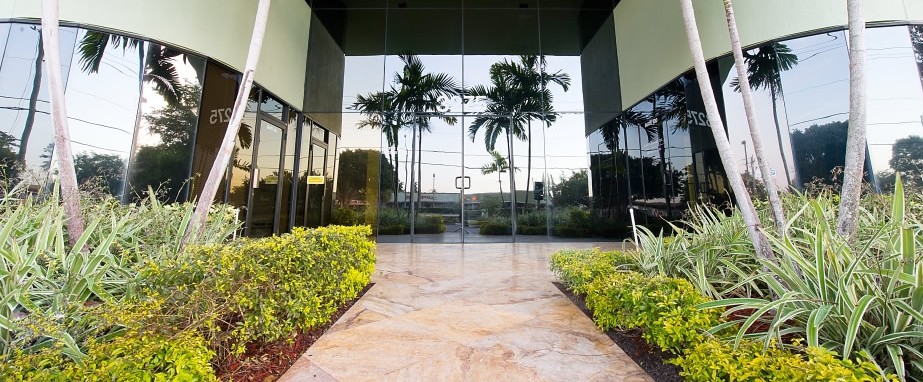 Current Deerfield Beach Luxury Office Space
3275 West Hillsboro BLvd – Deerfield Beach FL 33442
Professional office space in the heart of Deerfield Beach. Located on Hillsboro Blvd, just east of Powerline Rd;
The IBD Building is perfectly situated in between Florida's Turnpike and I95. This fantastic location is perfect for any professional business.
Professional office building with class A finishes.
Large windows provide spectacular natural lighting.
Lobbies and common areas feature high-end finishes including marble with inlaid medallions, large framed art, and chair rails.
Plentiful parking for yourself and your clients
Perfect for attorneys; minutes away from the Broward County North Regional Courthouse.
"On-the-spot" building management, issues are handled NOW.
Your new office space can be tailored to suit your needs.
Your new office space can be freshly painted and carpeted in colors of your choice.
The City of Deerfield Beach is a dynamic coastal community of more than 77,000 residents, where partnerships are a top priority – from government to community to business. Whether you are a resident, business or visitor, we invite you to explore the links in the left hand column to learn more about us.  Deerfield Beach, is a friendly and comfortable coastal community of neighborhoods as unique as the people who live in them. Communities in every style imaginable, there is a place for you to feel at home. The beaches here are near pristine and completely open to the public. But for a break from the waves, residents can easily take a quick drive to Fort Lauderdale or Miami for major league sports and world-class entertainment.
Location:
Deerfield Beach location: between Palm Beach and Miami on the Florida east Atlantic. Nearby communities to Deerfield Beach include Fort Lauderdale at 16 miles, West Palm Beach at 28 miles and Miami at 36 miles away.
Economy & Industry
The main economic driver is tourism but it is not the only strong portion of the economy of Deerfield Beach, other large portions include distribution, manufacturing and office industries.
Live
Deerfield Beach, Florida is a upbeat ocean side community of just over 79,000 lying along the Atlantic Ocean, just South of Boca Raton and 20 miles north of Fort Lauderdale, Florida. Deerfield Beach began humbly as a pineapple farming area in the early 1900s, and continued as a small farming community until the late 1940s. As the popularity of the South Florida's Gold Coast grew, so did the city of Deerfield Beach, and today it is a dynamic coastal town with an exciting beach front buzzing with activity.
Play
The Beach
It's the beach and much more…. So let's start at the pristine, award-winning Blue Wave Deerfield Beach.
– The pier area is an active and vibrant place to fish
– Beach volleyball pick-up games
– For 20 years, Island Water Sports has provided FREE surfing lessons every Saturday morning for all ages
– Biking, walking and sun bathing along the beach will rejuvenate after a tough work week.
Quiet Waters Water Park
A 443-acre county park that will keep you cool with all the water activities offered including, a freshwater swimming beach, cable tow water skiing, rental boats, and an interactive children's playground and water park. Bring the family spend the day.
Golf, Tennis, and Fishing opportunities are endless!
The beaches here are near pristine and completely open to the public. But for a break from the waves, residents can easily take a quick drive to Fort Lauderdale or Miami for major league sports and world-class entertainment.
Just the Facts:

As of 2016, Deerfield Beach's estimated population is 79,768 people. Since 2010, it has had a population growth of 6.30 percent. The median home cost in Deerfield Beach is $111,000 which is 20% lower than the national average. Residents in Deerfield Beach, FL enjoy a cost of living index of 95. This index is 5% lower than the Florida average, and 5% lower than the national average. The following categories are used when determining the cost of living index for any given city: health care (5%), transportation (9%), utilities (10%), groceries (13%), housing (30%), and goods/services (33%). Clearly, housing and goods/services make up the majority of the formula for calculating the cost of living index. Because of this, the general cost of living for any given area can be estimated by looking at the cost of everyday goods in that area. For those living in Deerfield Beach, FL, the average cost of goods and services is 2% lower than it is in Florida, and it is 1% lower than the national average.
Outdoor activities abound, with our award-winning beaches, boating on the inter-coastal waterway, sailing, surfing, wake boarding, fishing, diving and biking . Add to that our year-round fantastic climate and our low cost of living – CNN July 2010 ranked Deerfield Beach as the most affordable city in the United States! – and there's no wonder why our beautiful beach town keeps growing. With a bevy of top companies to choose from and new ones moving into the community Deerfield Beach offers ample employment opportunities, has an attractive housing market, and a world class climate.
To experience South Florida's beaches without encountering large crowds, try Deerfield Beach. The city's award-winning "Blue Wave" beach earned that designation from the Clean Beach Council, based on Deerfield Beach's excellent water quality, beach conditions, safety services, public information and habitat conservation policies. Also found in Deerfield Beach are attractive shopping and dining opportunities. In addition, Deerfield Beach is home to Quiet Waters Park, which features campgrounds, fishing, a skate park and – are you ready? – the longest "cable ski" courses in the nation. A hybrid of surfing, skiing and wakeboarding, cable skiing is rapidly growing in popularity, and you can try it at the park's 2,700-foot oval course.
Deerfield Beach Chamber of Commerce
http://www.deerfieldchamber.com
The Deerfield Beach Chamber of Commerce is a business advocacy organization that exists to serve the needs of its members. To do this, we have adopted a vision and mission that illustrates the broad, long-term purpose of the
organization. Vision Statement Our Chamber is the business membership organization of influence whose actions contribute to responsible economic growth and a better quality of life for all people. Mission Statement We lead economic development by supporting the growth of area businesses, helping to attract and establish new businesses and fostering a healthy and inclusive business environment. Moreover, we improve quality of life through responsible, sustained leadership on community and regional issues of relevance to our members. Declaration of Community Values We believe in the dignity and goodness of all people. Prejudice has no place in our community. As one of America's finest cities we can tolerate no less. The citizens of Deerfield Beach have the courage and the conviction to affect a positive difference. To be successful everyone must have a chance to succeed. This is our pledge. This is our hope. This is our future.
Yomtob Properties
5300 West Atlantic Avenue
Delray Beach, FL 33496
Email: ben@yomtobinvestments.com
Phone: 561-542-8222
Ben Yomtob Personal Branding site is under construction:
Additional Commercial Property Marketing Page